What's ailing Arsenal? This game highlighted three problem areas:
1. Arsenal is losing the big games. The Gunners have drawn one and lost 10 of their past 11 fixtures against Manchester United and Chelsea. They have also come up short in their last two games against Tottenham. It was only two years ago that their problem was the opposite: They were picking up good results against the title contenders but falling down with away trips to bottom-half sides. Arsenal's current run is difficult to explain, even for its manager Arsene Wenger. "Why do we always seem to lose these big games?" he asked a reporter. "If you are a football specialist, I leave this analysis to you. Why do you ask me?" Wenger is the football specialist, and he clearly doesn't know, but it's certainly costing his side. The matches between title contenders were crucial last season -- Chelsea picked up a full 12 points from its matches against United and Arsenal and finished one point clear of United.
2. Arsenal's passing game is not clicking enough. The Gunners' problem when they didn't get results last season was that they passed and passed but couldn't manage to break the opposition down. On occasion this season, it appears they've taken a step backward -- against West Brom, Newcastle and now Manchester United, their passing ability completely deserted them. Wenger was quick to blame the pitch. "The technical quality of the game was very average on both sides because the pitch was so poor in my opinion," he told the British media. "The game suffered a lot from it. It was bouncy and slippery." There's probably more to this than sour grapes, since United had problems, too, but Arsenal's wayward passing was more obvious and more crucial in unsettling its rhythm.
[+] Enlarge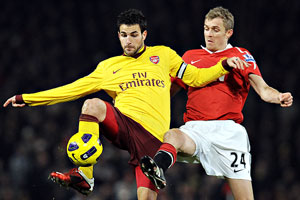 Andrew Yates/AFP/Getty ImagesArsenal's big problem of late is it can't beat title contenders Manchester United and Chelsea.
3. Andrei Arshavin is too up and down.
His performances are generally described as either excellent or terrible, with nothing in between. The exaggeration demonstrates how fickle football supporters and writers can be, but there's a grain of truth here. Arshavin, even at his best, is not a player who runs a game. He did when playing for Russia, in a Euro 2008 quarterfinal win over Netherlands, but when stationed out on the left in an Arsenal shirt his contribution is merely to provide a couple of moments of magic per match, rather than to be the main man Arsenal looks to for inspiration for 90 minutes. It may sound strange, but even in his incredible performance at Anfield in 2008/2009 when he scored four goals he wasn't particularly noticeable aside from his excellent finishes, as he later admitted himself. Therefore, his contribution is judged solely on his shots and attempts to slide teammates in -- if they come off, he is a hero; if not, he's the villain. In the United game, it was the latter.